https://forms.gle/aBP9Q9GZKj2babUy8
Stanton ISD preliminary planning amounts and proposed uses of funds for Title I, Title II, and TIV is funding for resources to help schools with high concentrations of students from low-income families to provide a high-quality education enabling all children to meet the state's student performance standards. According to the Program-Specific Provisions and Assurances Stanton ISD afforded a reasonable opportunity for public comment on the application and has considered such comment.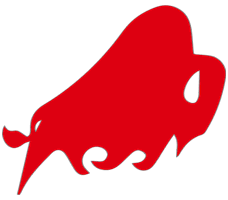 We encourage everyone to register to vote! The last day to register to vote is October 11, 2022. Register Online:
https://www.votetexas.gov/
Register In Person: 110 W School Street, Stanton (Elections Office - Located under the water tower downtown) Every vote counts!!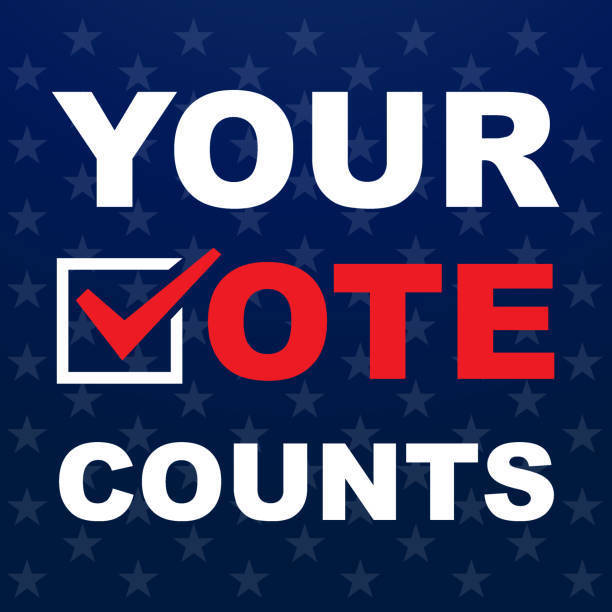 Homecoming Pep Rally!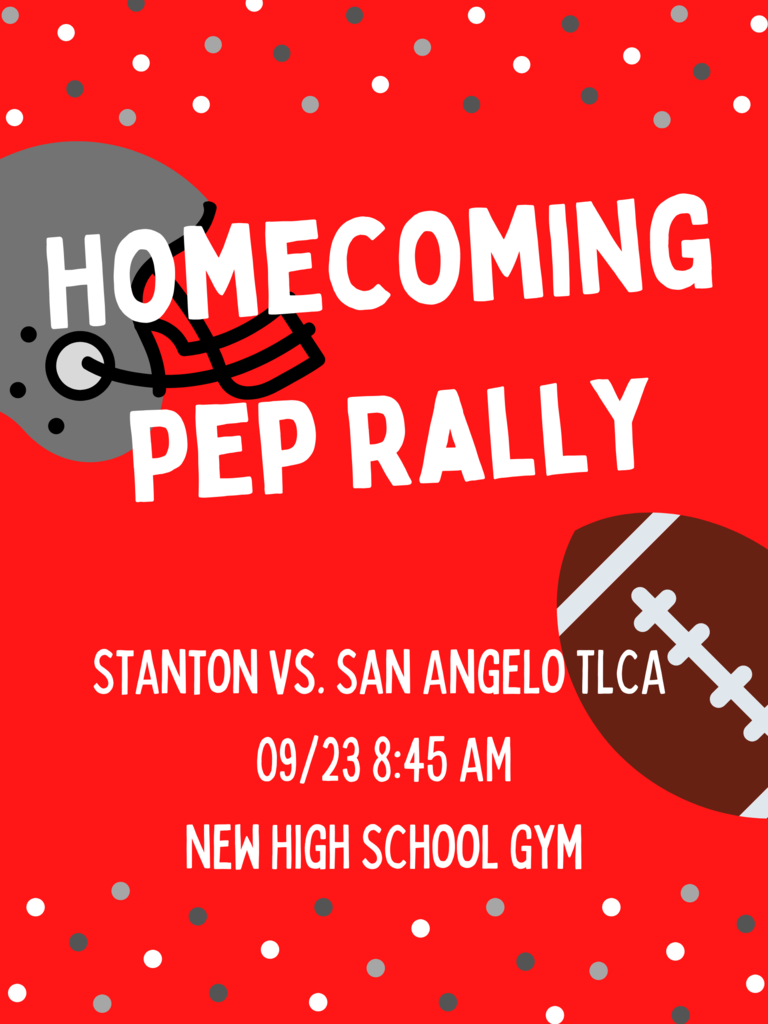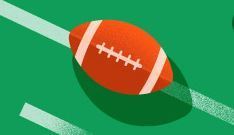 Blacklight Pep Rally tomorrow! Wear your neons and glow sticks!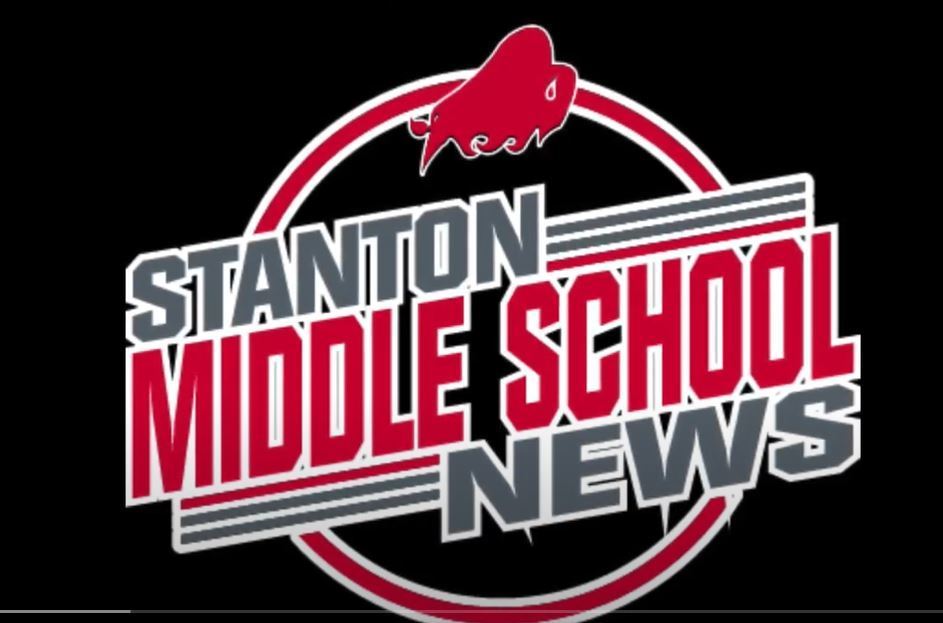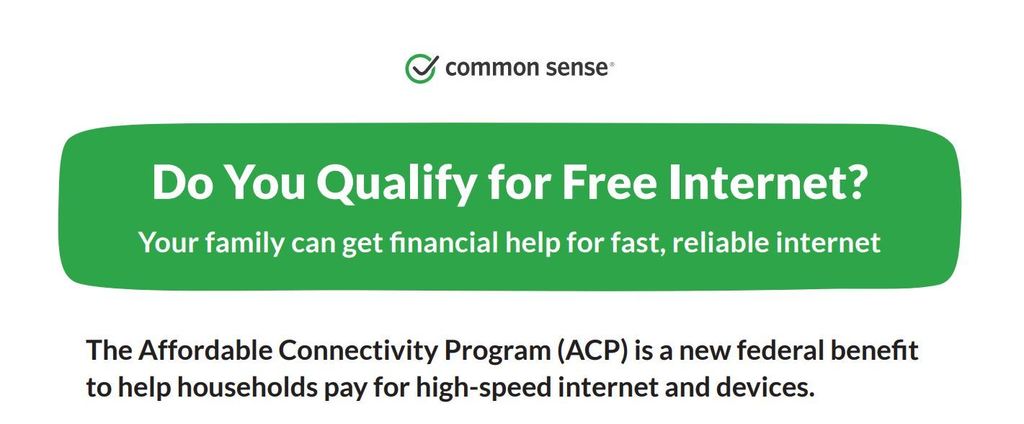 I've had quite a few people ask about this year's band shirts. Here is an order form if you are interested in ordering the 2022 Band Show Shirts. I will be placing the order on September 21, so I'll need the orders by Tuesday September 20. Thanks. P.S. Don't forget to go to CBS7 and vote for Stanton as the band of the week! (you can vote multiple times if you clear your browser cache...I've been told...).
https://www.cbs7.com/poll/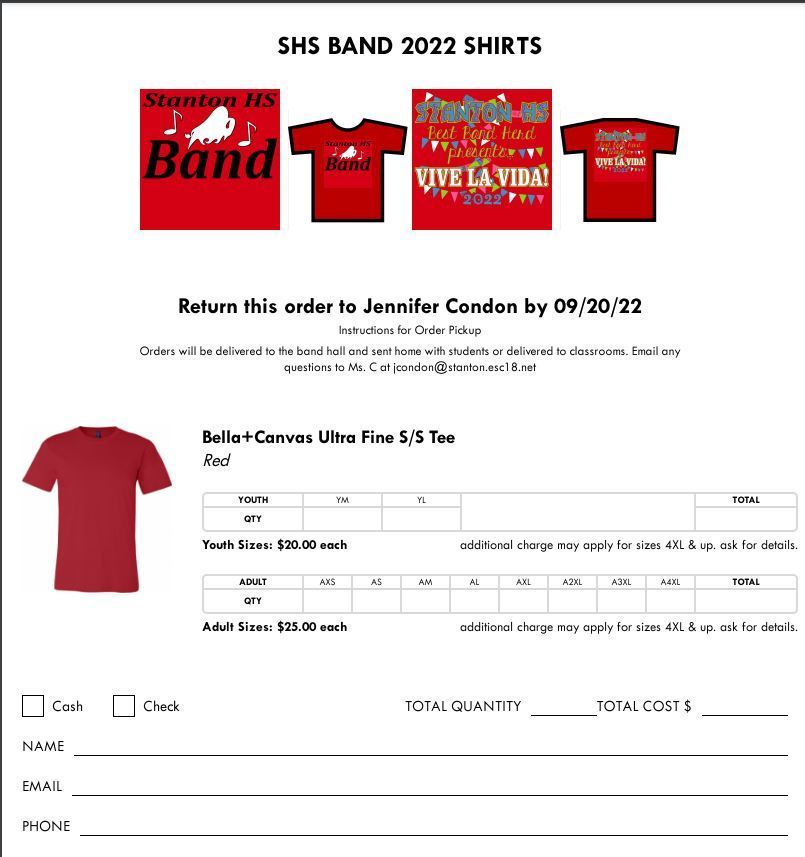 Our band is up for band of the week. Would you ask everyone to vote on CBS 7 by Thursday ! Here is the link!
https://www.cbs7.com/poll/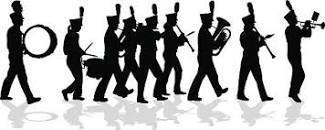 Pecos Pep Rally! Black out the Eagles!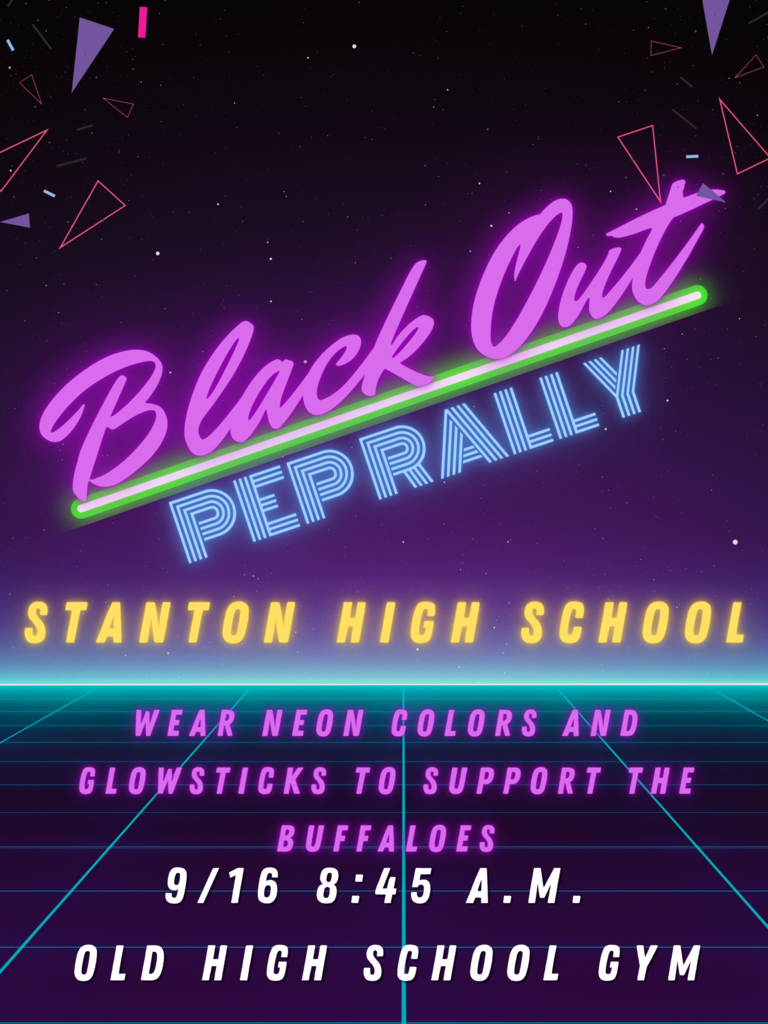 Meet the Buffs tonight starting at 6:30. You can feed you family while you are here. Burger plate or 2 hotdogs for 10 dollars. They start serving at 7:00. See you there! Go Buffs!
Stanton vs. Grape Creek Pep Rally!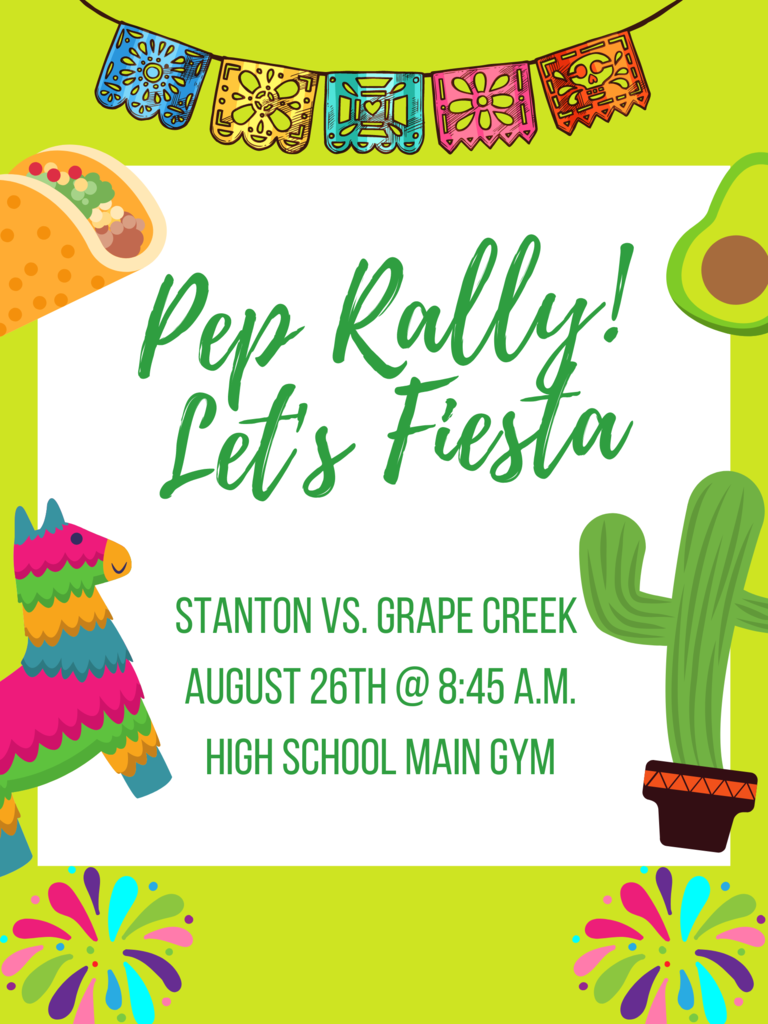 Join us for Meet the Buffaloes tonight at 6:30 at the High School football field. Hamburger dinner to follow in the High School Commons, $10 per plate.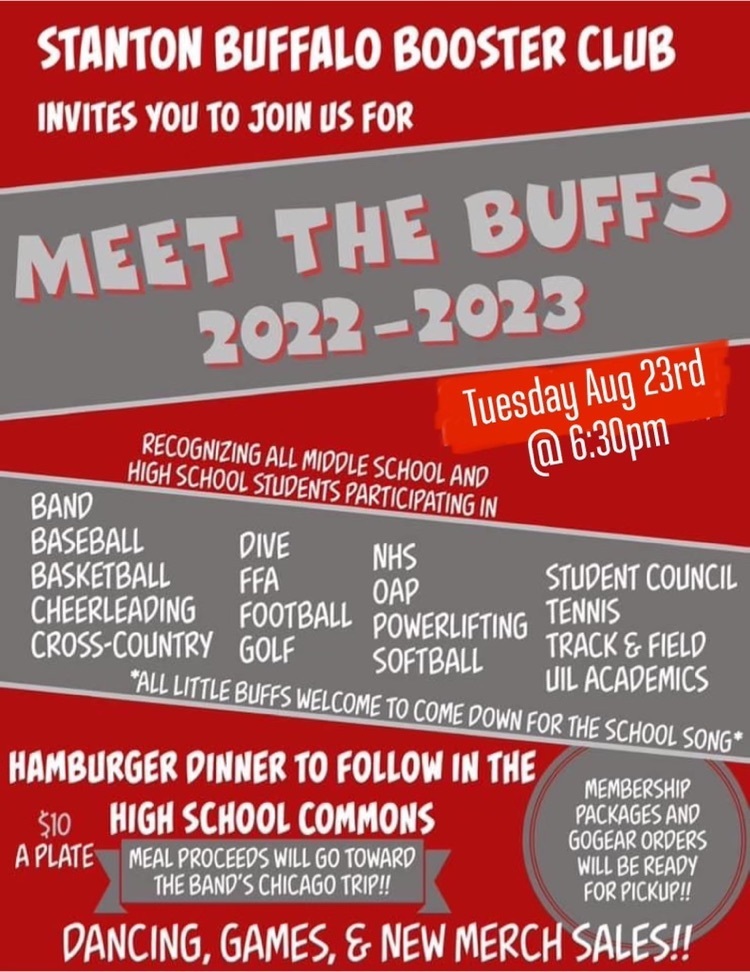 Thank you for your support the burgers are sold out we will see you Tuesday for meet the Buffs.
Meet the Buffs has been cancelled due to the weather! Band has 200 Hamburger meals prepared and will have those ready for sale ($10 per plate) starting at 6:30 in the HS Commons. Meet the Buffs is rescheduled for 6:30 PM Tuesday August 23rd at the Buffalo Stadium.
Stanton Elementary School meet the teacher is tonight Aug 15, 2022 from 5-7pm
Remember, there is a mandatory SHS Band Parent Meeting tonight at 7:00 pm in the HS Band Hall!
SHS Band August Rehearsal schedule: Monday August 1-Leadership Team only from 9 am-3 pm August 2,3,4: Full Band Rehearsal from 3-5 pm and 6-9 pm. August 5-no rehearsals August 8-11 schedule: marching band rehearsal from 6 pm -9 pm. Sectional schedules TBD. August 9-Mandatory HS Band parent meeting at 7 pm in the SHS band hall. August 15-Marching band rehearsal from 6pm-9 pm
Stanton High School registration will be August 2nd and 3rd. The schedule is as follows: August 2nd Seniors: 8:30 to 11:30 Sophomores: 1:00 to 3:30 August 3rd Juniors 8:30 to 11:30 Freshman 1:00 to 3:30 There will be registration packets to fill out in the front office. Please come pick one up to fill out at your convenience between now and the date of registration. Everyone must have proof of residence when they arrive. If you have more than one student to register, you may register them both at the same time. There will be a 9th grade meet and greet August 3rd from 6:00pm to 7:00pm.